Please contact 612-254-7373 or

 Email 

[email protected]

 

With any questions or concerns. 
Thank you for visiting the blog. It is dedicated to the Deck-railings, spindles, and fascia board painting project. Please visit the blog periodically for project information, answers to frequently asked questions, and project status updates. We appreciate your patience during the project. 
Project links "Click to view"
On-site Project Manager Tasha Andersen
Cell: 763-218-0262
(Contact her with site-specific questions)
Areas to be painted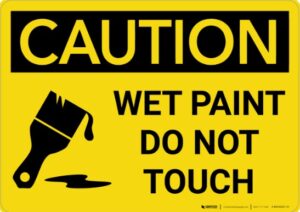 7/24/2023- The painters will be back on-site tomorrow to finish the project. They have half of Building 40 and all of Building 41 remaining. This will complete the project. Thanks to all for your patience and cooperation. 
7/17/2023- The painters will be working on the last two buildings on Hampshire Ln today. If they're able to finish both buildings, they will be moving to Hartford Cir and will start on buildings 37 (9535-9541 Hartford Cir) & 38 (9527-9533) On Tuesday, July 18th.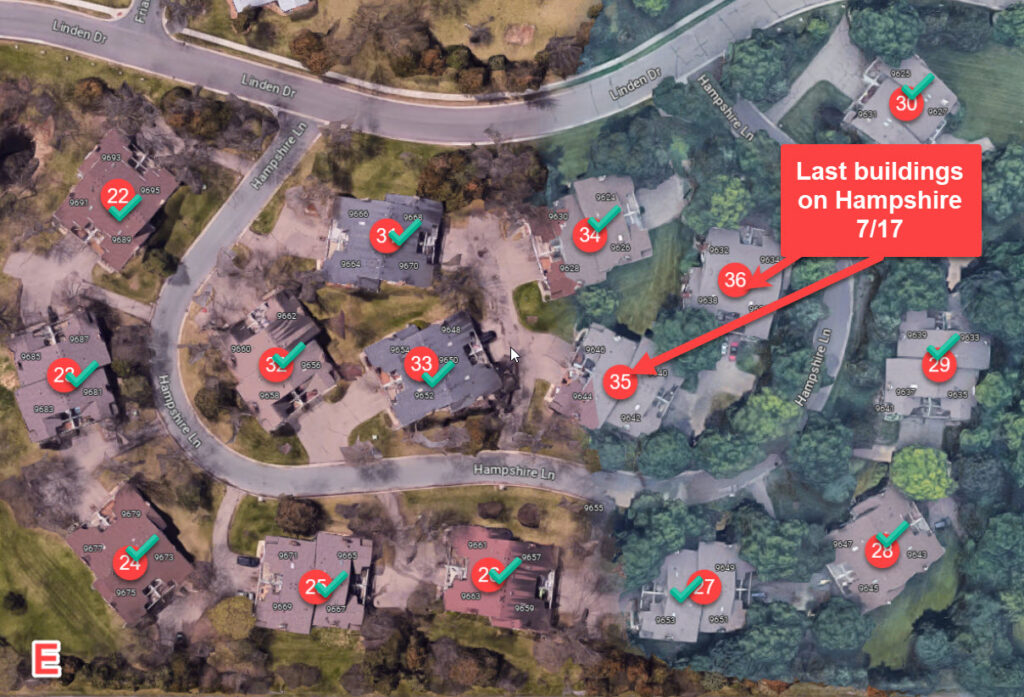 7/13/2023- The painters completed buildings 30 and 31 yesterday and will complete buildings 32 and 33 tomorrow. This will leave three more buildings on Hamshire Lane. They will move to Hartford Cir which will complete the project. If weather permits the project should be finished by the end of next week.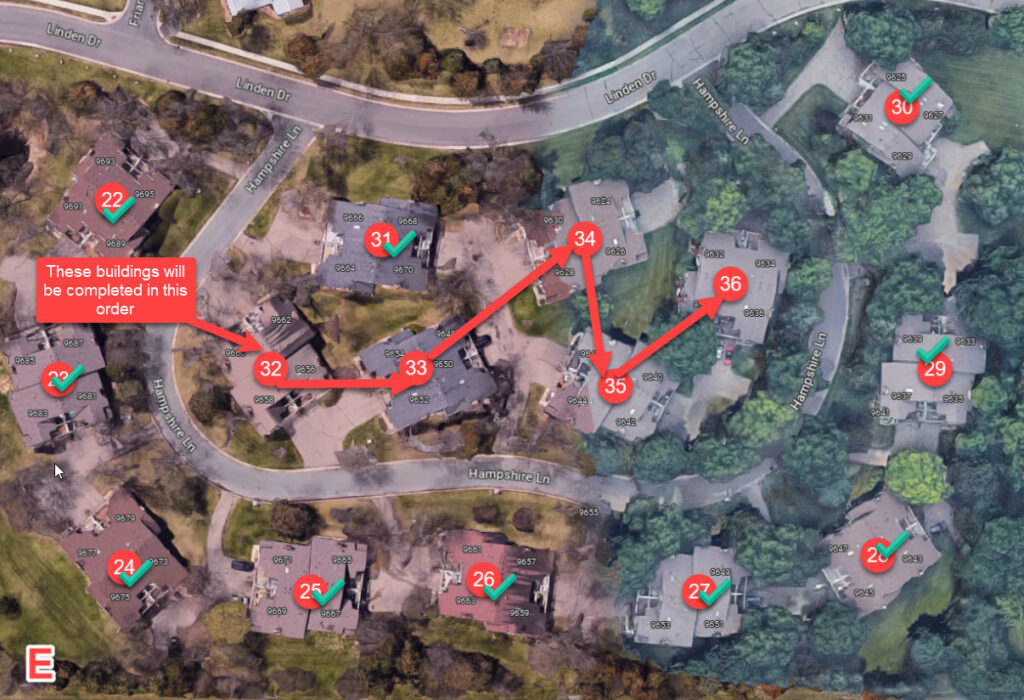 7/11/2023- The painters returned to the site yesterday and picked up where they left off. They completed building 26 and started building 27. Today they will finish 27 and work on buildings 28 and 29. They will continue numerically through the buildings on Hampshire Ln. There are 7 buildings left on Hampshire Ln.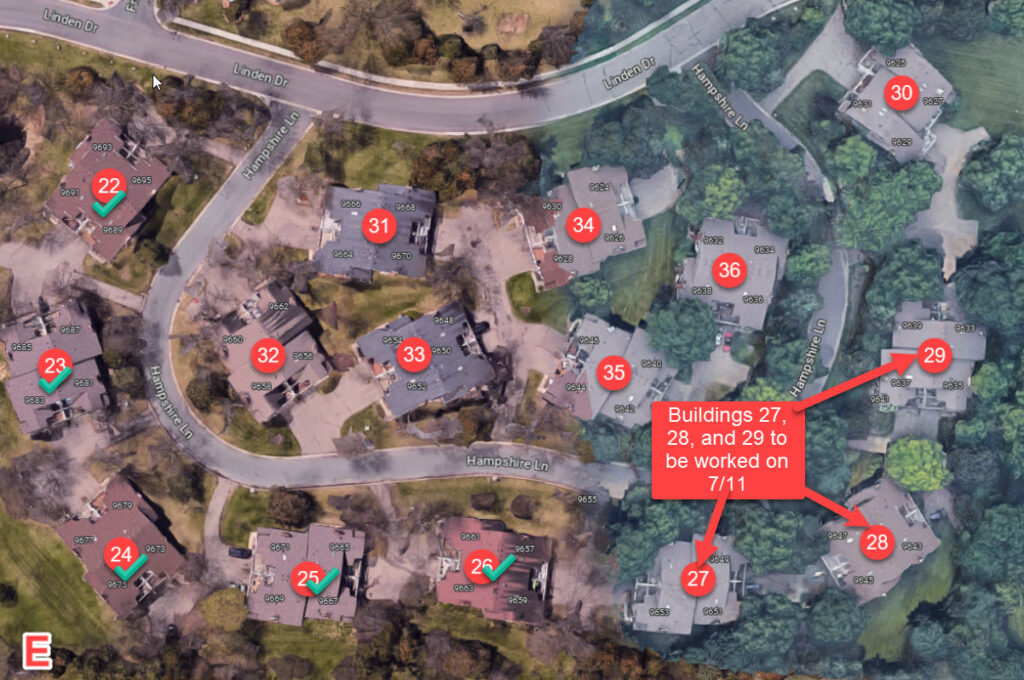 7/3/2023- The painters were able to complete building 22, 23, 24, and, 25 on Hampshire Ln last week. For the Fourth of July week, there will not be any work completed. On Monday, July 10th. The painters will pick back up where they left off by starting on building 25 (9665-9671 Hampshire Ln). Please keep an eye out for the paper notices on your door.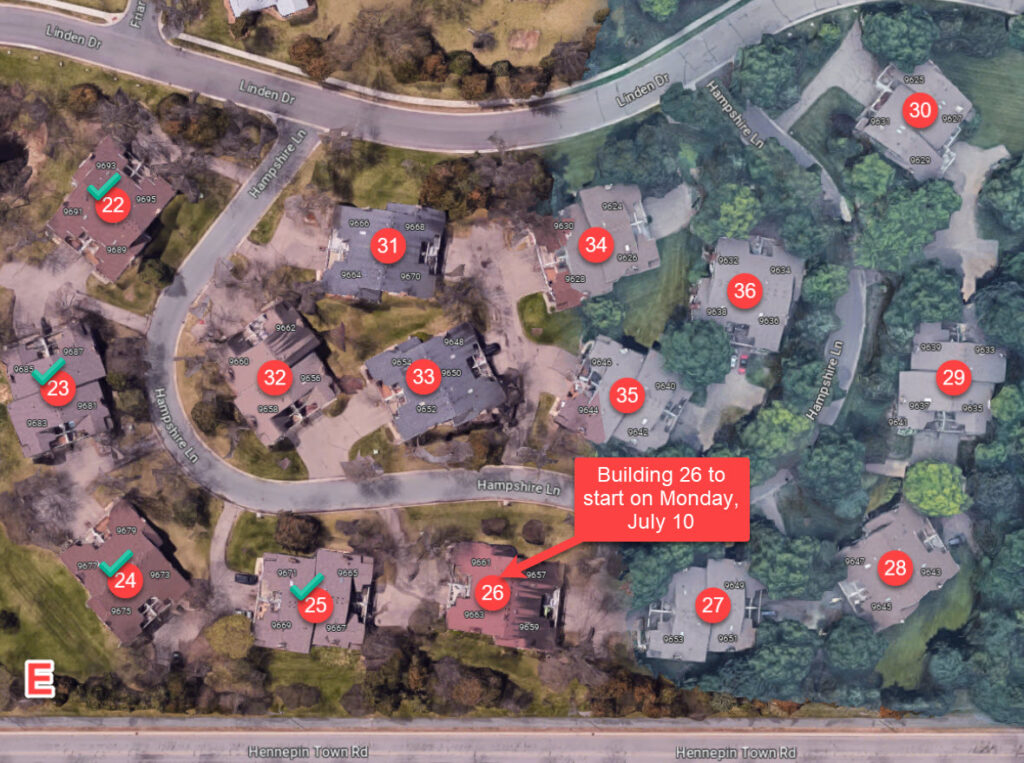 6/27/2023- The painters have finished the 21 buildings on Dorset Ln and will be starting on Hampshire Ln. at buildings 22, 23, and 24 today. They are officially past the halfway point of the project. They will continue to work numerically through the community per the project map and will post paper notices on garage doors the day before work will start.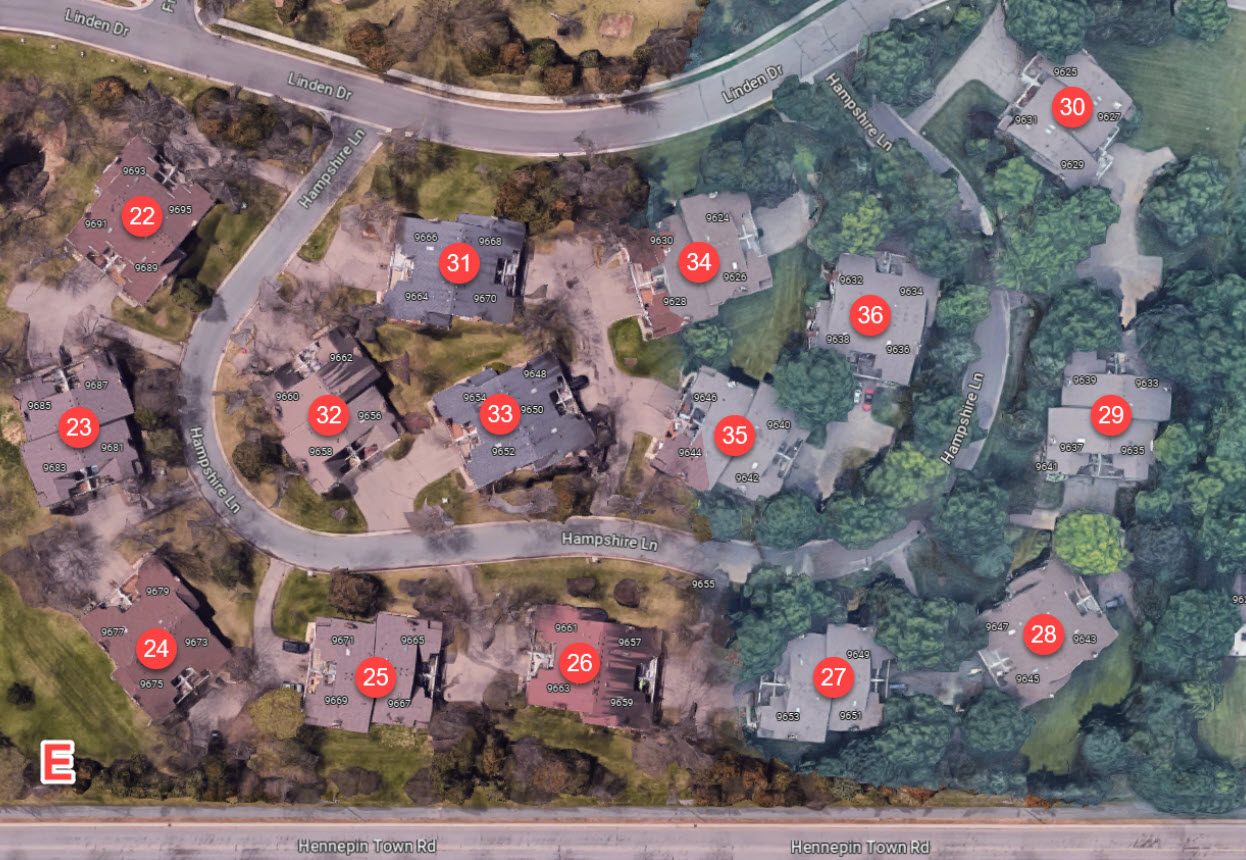 6/21/2023- The crew made a lot of progress today. They completed buildings 15, 16, 17, and 18. Notices have been posted for buildings 19 and 20 to be completed tomorrow 6/22. Only three buildings are remaining on Dorset Ln. Once these buildings are completed they will move to the buildings on Hampshire Ln and begin working their way numerically through this area. 

6/20/2023- Yesterday the painters completed the other half of Building 11 and half of Building 12. They will finish building 12 and start working on buildings 13 and 14 today. 
6/19/2023- Last week the painting crew was able to complete the first 10 buildings. They were able to complete half of building 11 on Friday and will be back to finish the other half this morning. They will also start building 12 today as well.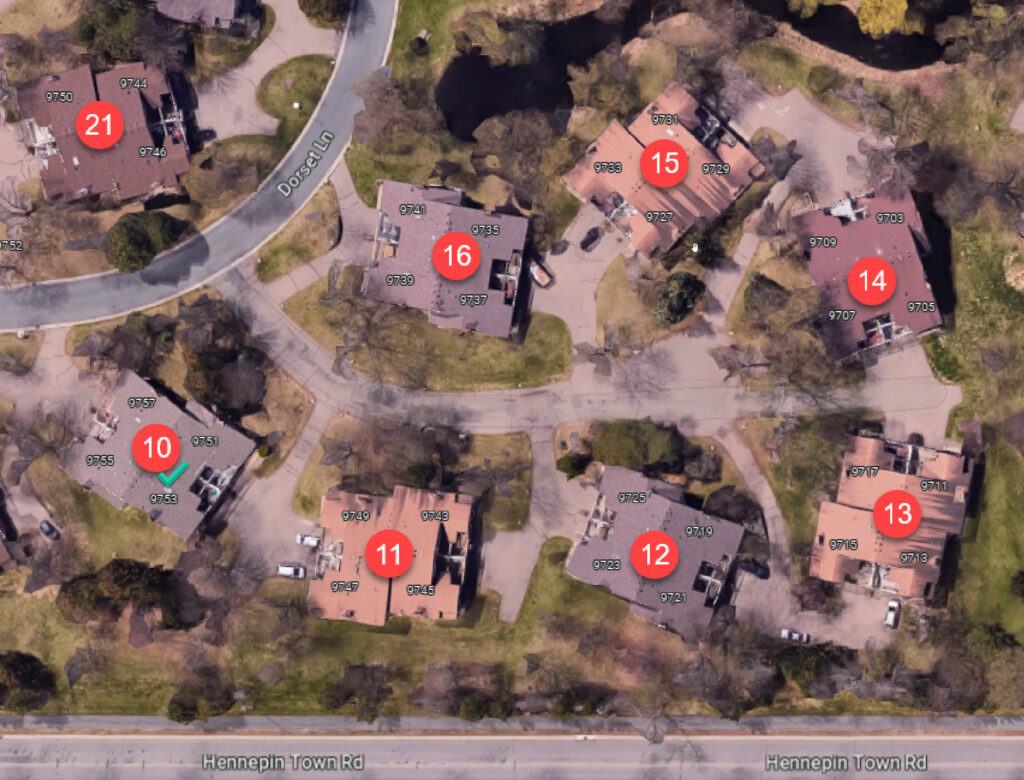 6/15/2023- The last two days have been productive. The painters have been able to complete buildings 3 through 6. They are working on buildings 7 & 8 today. Buildings 9 & 10 are next. Thanks for moving your personal items away from the railings and not parking close to the garage door to allow clear access.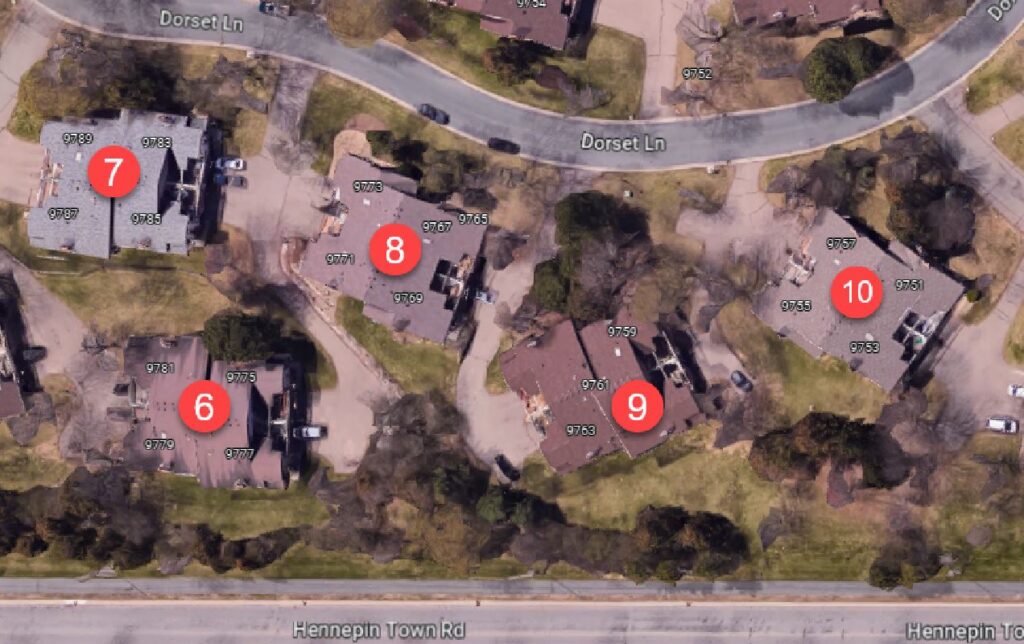 6/12/2023- Today, June 12th, the crew was able to complete the first two buildings. Tomorrow buildings 3 & 4 will be completed. At this pace, they will move quickly through the project. Please keep an eye out for the paper notices posted on your garage door so you can complete the requested actions and prepare for the crews' arrival.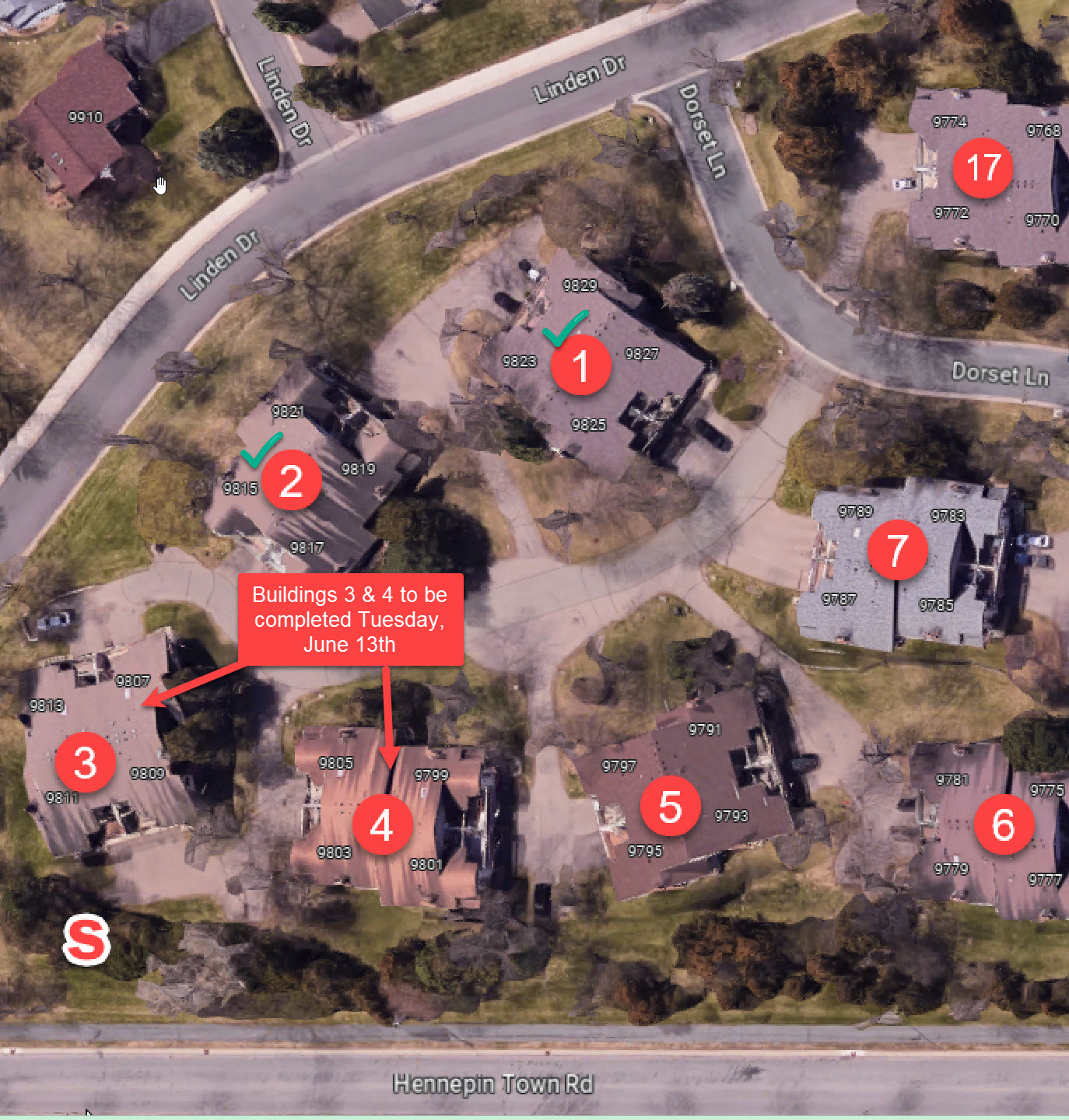 On Monday, June 12th. the painting of the deck-railing tops, spindles, and bottom fascia board is scheduled to begin with work starting on the South end of the community and working numerically through the community per the map. Each day, the crew is expected to complete 1 to 2 buildings per working day. Prior to work starting at your home, a paper notice will be posted on the garage door. Please make sure you complete what is needed from you prior to the work starting. This will have minimal impact on your daily routine but please use caution and don't touch the painted areas for at least 24 hours. 
What is needed from you "Please"
Remove any items attached or placed on top rails. 
Remove all personal items 5 feet from deck railings. 
Do not park tight to the garage door. Leave 10 feet of clearance. 
Please contact 612-254-7373 or

 Email 

[email protected]

 

With any questions or concerns.