Please contact 612-254-7373 or

 Email 

[email protected]

 

With any questions or concerns. 
Thank you for visiting the blog. It is dedicated to the storm restoration project. Please refer to the map for reference as to when your area of the community will be worked on. Please visit the blog periodically for project information, answers to frequently asked questions, and project status updates. We appreciate your patience during the project. 
Project links "Click to view"
On-site Project Manager Henry Hernandez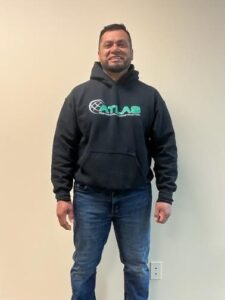 Cell: 612-638-8700
(Contact him with site-specific questions)
Shingle color selected by the Board
"CertainTeed Landmark" Weathered Wood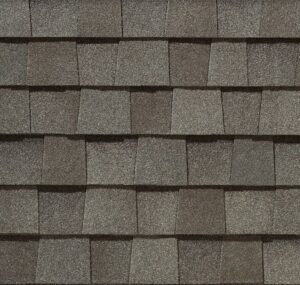 Equipment to be used during the project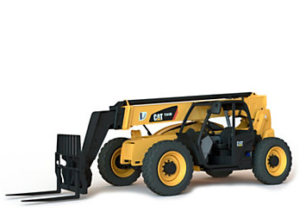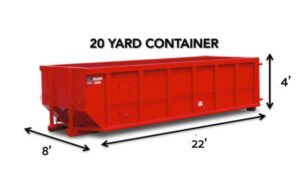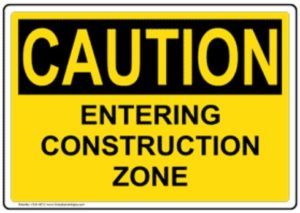 All dates and proposed plans are "Weather Permitting" and subject to change with little notice
6/6/2023- The gutters will be completed by the end of today. This will conclude the project! There were permits and photos taped to garages. These have been placed there in advance of the City inspector's final inspection. Please leave them up and they will be taken by the inspector tomorrow. Henry will be on-site to meet with the inspector. 
6/5/2023- The gutter crew has completed buildings 1 through 4. They will be working on buildings 5 & 6 today 6/5, 7 & 8 tomorrow 6/6, and will finish on building 9 on Wednesday, June 7th. After the gutters are completed, the project will be done. Thanks to all for your patience and cooperation. 
5/30/2023- Tomorrow, Wednesday, May 31st the gutter crew will begin replacing the gutters on the homes that currently have gutters. This means if your home does not have gutters, you will not be getting gutters installed. 

The gutter crew will follow the same path as the roofing crew. They will start on building 1 and work their way numerically through the community. They are expecting to complete one to two buildings per day. If you have gutters, please make sure your courtyard gate is unlocked so they can access this area. 
5/18/2023- The crew has completed buildings 7 & 8. They will attempt to work around the possible rain today and work on Building 9 as the weather permits. They will start with the garages but may need to return to complete the main building tomorrow. This will conclude the roofing portion of the project.
As part of the project, all homes that currently have gutters will have them replaced with new ones. Our gutter crew is finishing up another job and will begin working at Greenleaf in the next few weeks. Additional notices and updates will be sent out once we have more information.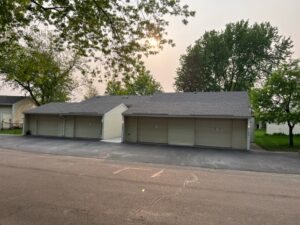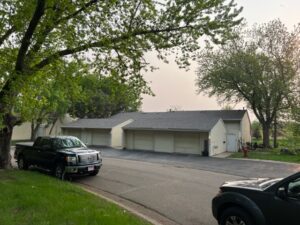 5/16/2023- The crew was able to complete the rest of building 4 as well as building 5 yesterday. They are working on building 6 today and plan on starting the garage roofs of building 7 as there is rain forecasted for this Thursday. We will be very close to finishing by the end of the week.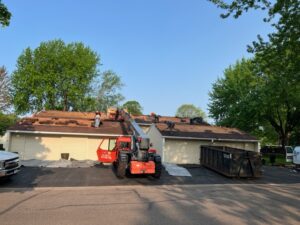 5/12/2023- Due to the weather, we are a little off schedule. The crew was able to complete the garages to building 4 but did not complete the main building. They will complete this on Monday, May 15th. They will also start working on building 5 as well. If the weather cooperates, we should be able to complete the rest of building 5 and all of building 6 by end of the day Tuesday, May 16th.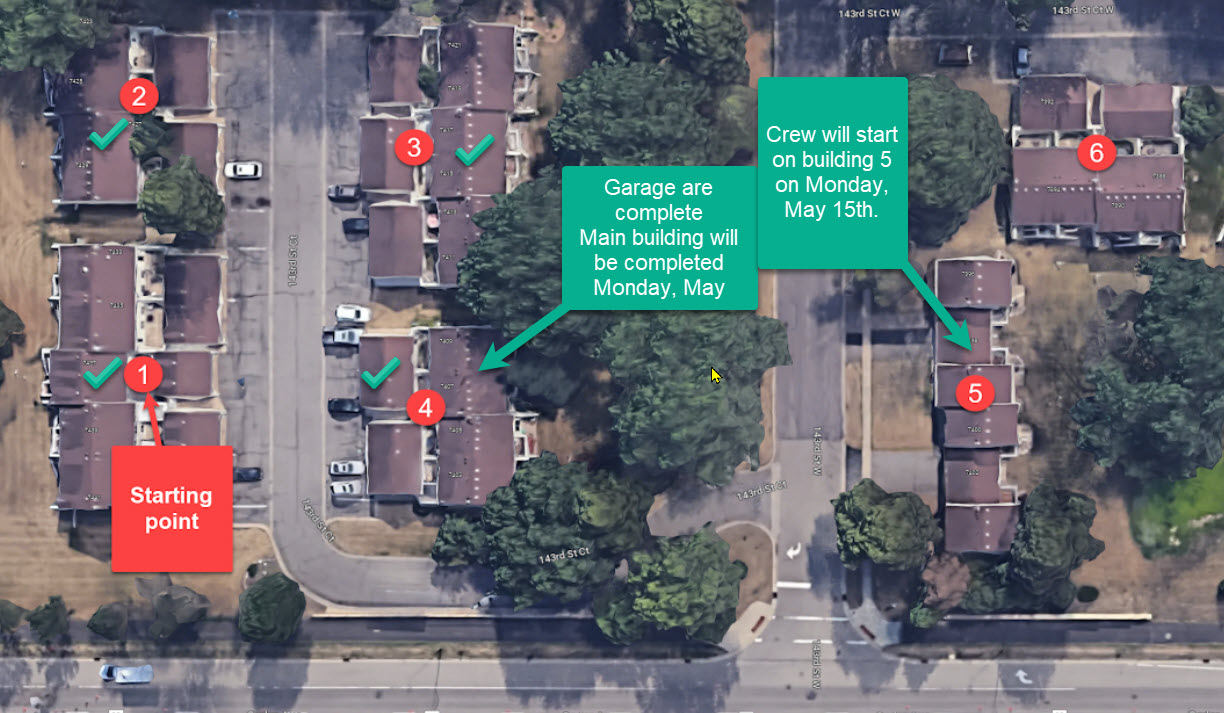 5/11/2023- Yesterday, the crew was able to complete building 3 and has now completed one building per day. Due to the threat of rain this morning, they will be holding off on starting first thing. It looks like the rain will dissipate a little after 9:00. If this forecast holds, the crew will begin work on building 4. If the threat of rain returns, we will take a rain day and return on Friday, weather permitting.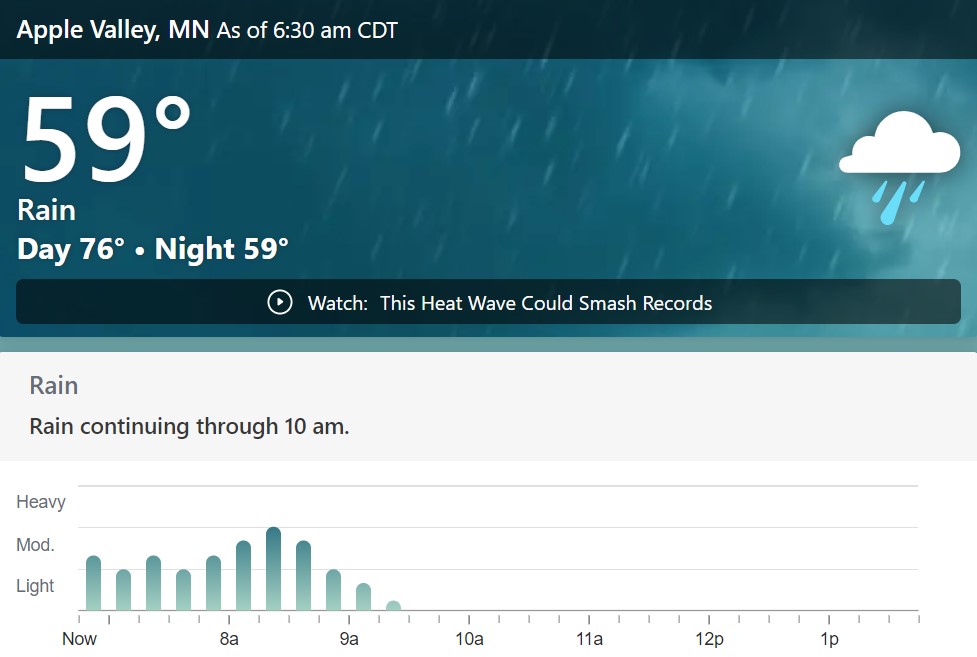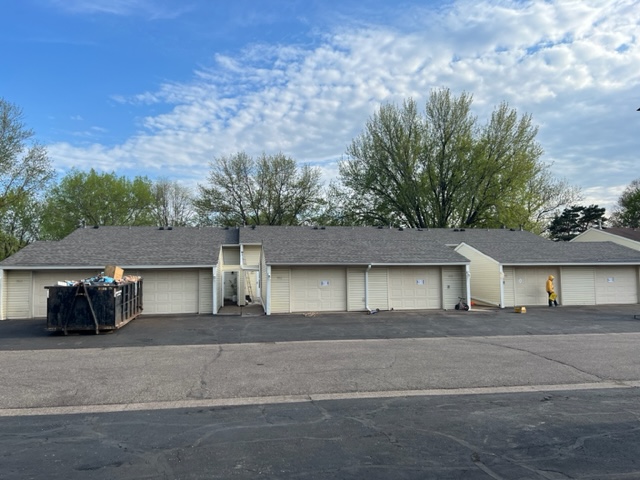 5/9/2023- The weather has been cooperating so we are making great progress. The crew finished up building 2 today and will be starting building 3 tomorrow. Thank you for your cooperation and patience.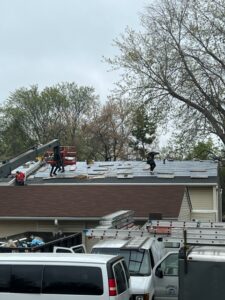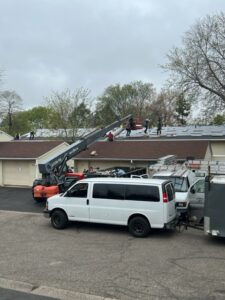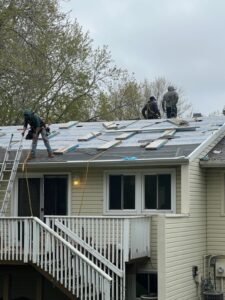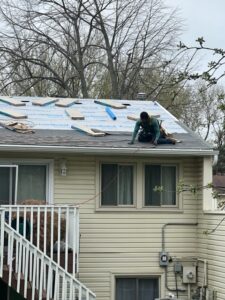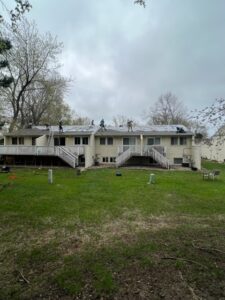 5/8/2023- Building 1 is going well and is expected to be completed by the end of the day. The crew is already in mid-season form. They will be moving on to building 2 tomorrow (7423-7429 143rd St. Ct.
Please remember to leave the courtyard door unlocked so the crew can get inside to clean up. They will not be able to do this if they can't walk in and out of the courtyards.  

4/27/2023- On Monday, May 8th the roofing project is scheduled to begin with work starting on building 1 (7433-7441 143rd St. Ct.). Prior to this date, materials and equipment will be delivered to the site and strategically placed on a per-building basis. On-site sanitation will be used for the crew members for the duration of the project. 
If you have a satellite dish on the roof that is not in use and can be removed and disposed of, please email [email protected] with your address and let us know it can be removed. If your dish is still in use, it will need to be removed and reinstalled after the new roof is installed. During this time, you will lose service. 
While work is taking place on your building or in the vicinity of your building, access in and around your home will be impacted. Paper notices will be posted on your garage door prior to the work starting. Roll-off dumpsters will be strategically placed in front of garage doors to collect the debris during the tear-off. They will be removed the following day except on Fridays.
There will also be a telehandler lift on-site to hoist materials onto the roof. This is a large piece of equipment with the operator's attention focused on the load on the forks. Please use caution when you are in the work area and be patient with them.