Please contact 612-254-7373 or Email

 

Info@Atlasmn.com

 

With any questions or concerns. 
Thank you for visiting the blog. It is dedicated to the 2020 concrete and asphalt project. Please visit the blog periodically for answers to frequently asked questions and project status updates. We appreciate your patience during the project. 
Project Manager Justin Hamm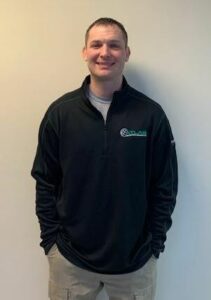 Cell: 612-644-5268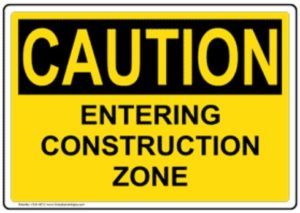 All dates and times are weather permitting and subject to change with little notice. 
The asphalt and concrete project will consist of two steps with concrete work to be completed first.
The asphalt work will be the second step and will consist of three phases. Each phase is projected to take a week. This will consist of full removal of the asphalt, minor base and grade corrections and then paving. There will be two separate crews, one removal and prep followed by the paving crew.
While the work is taking place in the phase you live in, you will need to park in/on guest parking areas, public and private roads. This will be a major inconvenience for you and we appreciate your patience during this very intrusive project. 
Asphalt Phase 1 (Week of July 13th) –This phase is green in the map and includes Building 3 (3540-3550 & 3560-3570), Building 4 (3580-3590 & 3600-3610), Building 5 (3620-3630 & 3640-3650), Building 6 (3660-3668 & 3670-3678), and Building 7 (3680-3688 & 3690-3698) 
Building 8 (3700-3708).
Asphalt Phase 2 (Week of July 27th)  –This phase is purple in the map and includes Building 8 (3760-3768), Building 9 (3770-3778 & 3780-3788), Building 10 (3800-3810 & 3820-3830), Building 11 (3840-3850 & 3860-3870), and Building 12 (3880-3888 & 3890-3898).
Asphalt Phase 3 (Week of August 10th) – This phase is red in the map and consists of Building 13 (3871-3879 &3881-3889), Building 14 (3841-3849 & 3861-3869), Building 15 (3801-3809 & 3821-3829), Building 1 (3501-3509 & 3511-3519) and Building 2 (3521-3529 & 3531-3539).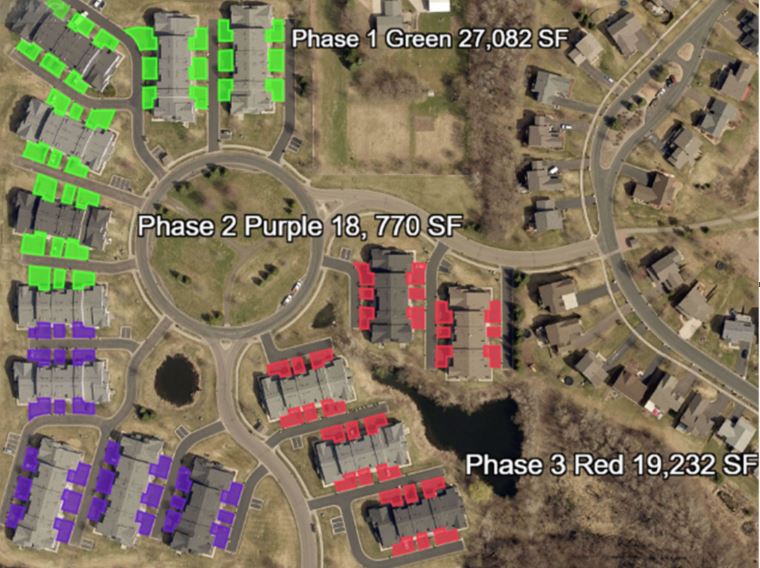 Parking during asphalt work
Green OK 24/7
Yellow is okay overnight
Red not OK anytime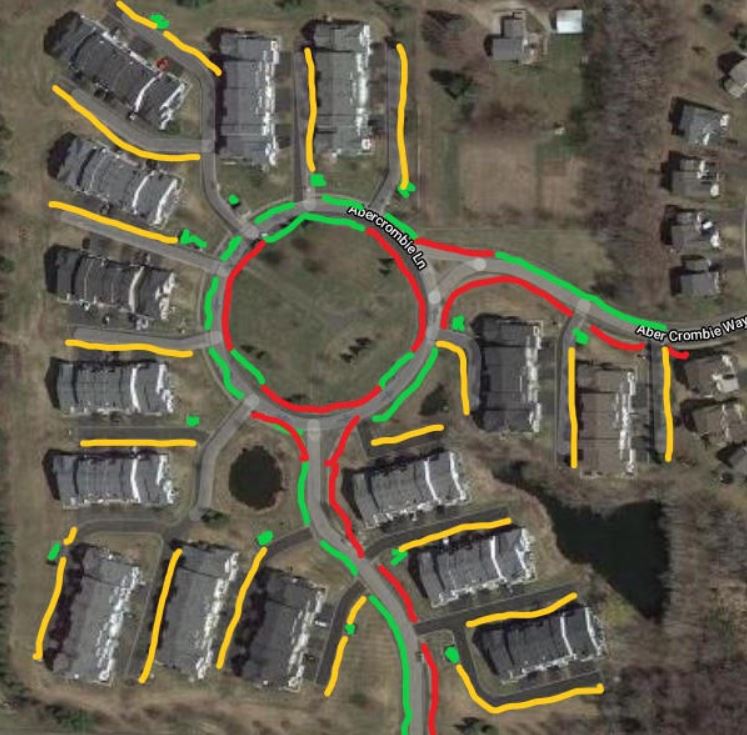 7/30/2020- With the second phase completed, please remember to follow the approved parking plan. The map sent out must be followed to allow enough space for emergency vehicles and residents to move safely around the community. On Tuesday, August 4th you may remove the caution tape and drive into your garage. It's recommended to not park on the driveway for another week. The final phase, phase 3 will begin with removal of the asphalt on Monday, August 10th. Thanks again for your patience and understanding. The inconvenience is almost over!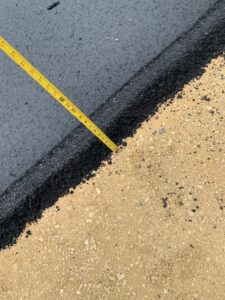 7/28/2020- Phase 2 paving went well and the weather was not so oppressive. They were able to complete the work without dealing with a heat advisory. The new driveways look great. Please remember to keep off of them for the next seven days and avoid parking on them for two weeks if possible.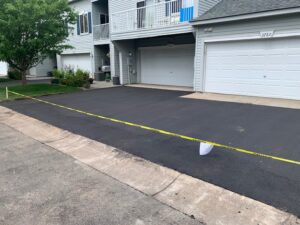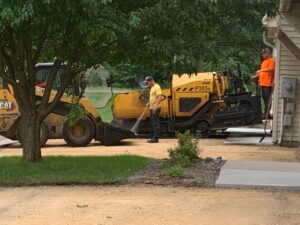 I received a few questions about the appearance of the new asphalt and the visible rocks and voids. Please note that asphalt is comprised of oil, sand and rocks. The rocks are what give the asphalt its strength and the voids and nonuniform appearance is unavoidable given the residential asphalt application. The mix that is being used is MV4 which stands for medium volume with 1/2″ rock. This is the recommended mix for driveways.
2360-mix-designation-numbers-examples click to view
The mix and application for a city or state road is different and uses much larger equipment that reduces the seems and does not include hand raking. I had my driveway replaced last year, photo below, and it looks the same and will not impact the useful life of the asphalt. After the next two years, proper maintenance should include crack sealing and sealcoating. This will give a more uniform look temporarily. We include the following comment in our proposal to try and set proper expectations.
"Asphalt is a machine laid surface which has seams that are sometimes noticeable. The surface texture of hand laid areas may not be uniform to machine laid areas, due to hand raking".
I have also received a lot of compliments as well.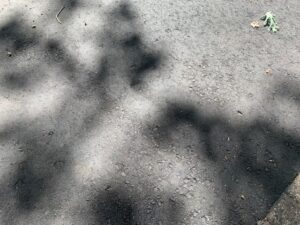 7/27/2020- The phase 2 removal and prep went very well. They were able to remove and grade all of the driveways and the weather appears like it will cooperate for tomorrow. The paving crew will be on-site tomorrow morning and will get all of the driveways completed. Thanks for your cooperation.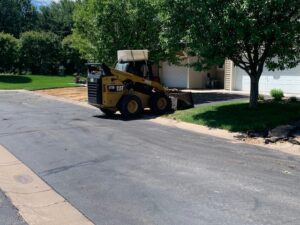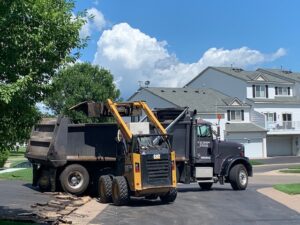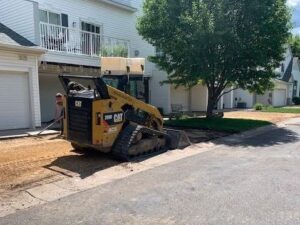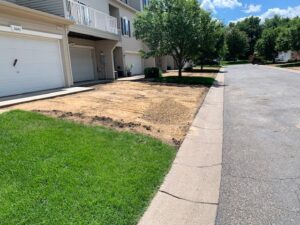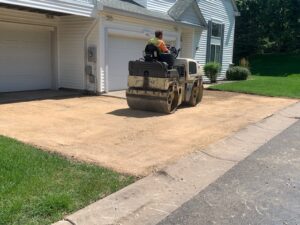 7/23/2020- Phase 2 (purple) is scheduled for removal on Monday, July 27th and paving on Tuesday the 28th. Please have all of your vehicles out of your garage and off of your driveway by 7:00 am. You may park on the compacted driveways on Monday night but will need them removed the following day by 7:00 am. Please note all dates are weather permitting and subject to change with little notice.
Phase 1 residents may remove the caution tape and stakes and dispose of them tomorrow. Please try to drive straight into your garage and avoid turning your wheels when the vehicle is not in motion. Parking on the new asphalt is not recommended especially on days with temps in the 90's. 
7/17/2020- The weather outside is frightful! The crews are doing there best to fight through the heat and get all of the driveways done. The plan was to have two crews on-site today but due to the heat, one of the paving machines broke down and they were forced to only send a single crew. They will do their best to get all of them done, but if they don't, they have an opening up next Tuesday, July 21st. Any driveways not completed today, will be completed next Tuesday. I do apologize for an inconvenience this may cause but hope you understand the challenges this type of heat creates. This will not impact the next two phases and the projected end date.
Please remember to keep off of the new asphalt for 3-5 days. Do not turn your wheels when your vehicle is stopped. Given the extreme heat, please don't put anything with blunt ends on it as it will puncture the new asphalt.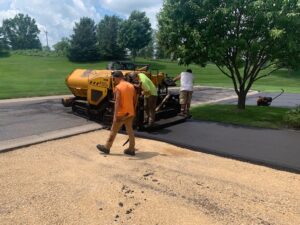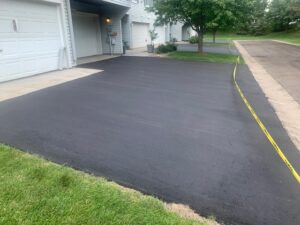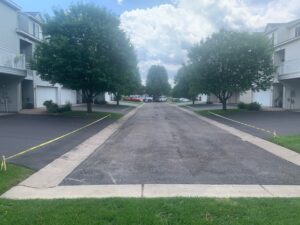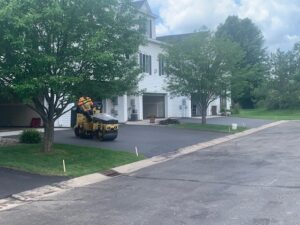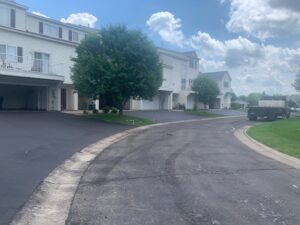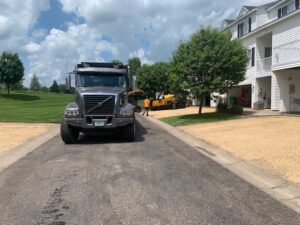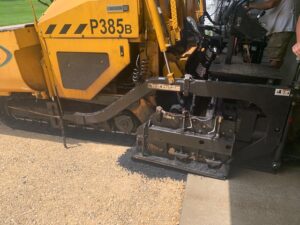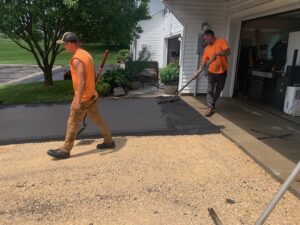 7/16/2020- The paving of phase one will take place tomorrow morning. Please have your vehicles out of your garage and off the driveway by 7:00 am. All of the driveways in phase one will be paved, "Weather Permitting". Please keep off of the new asphalt for at least 3 days. Thanks again for your cooperation.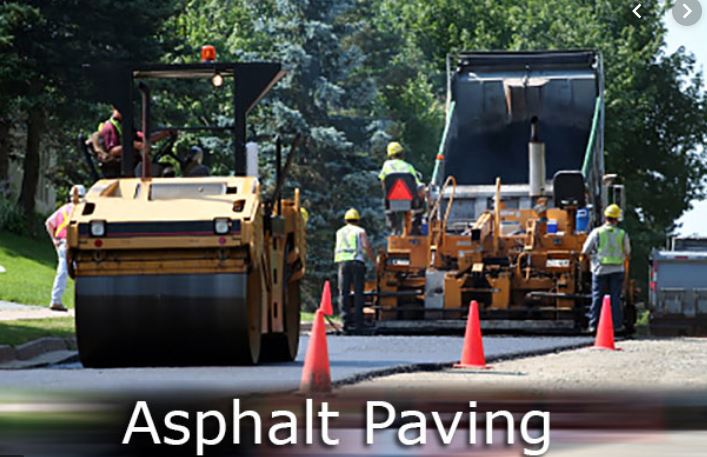 7/14/2020- The meteorologists were off again. The crew did not show up today but will be back on Friday to pave all of the driveways. Instead of paving for two days, the plan changed to having two crews complete the paving in one day. Because of this, the paving was pushed to Friday and everything will be completed in one day. I apologize for the slight change of plans but this will still provide enough time for the asphalt to cure and allow everyone to access their garage before phase two removal begins. You may park in your driveway until Friday morning.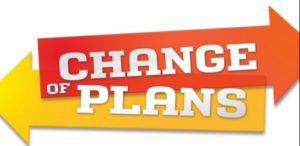 7/13/2020- The asphalt removal of phase one went very well. The crews moved very effectively through this phase with no issues to speak of. The condition of the base gravel is very good with no soil corrections needed. You may park on the compacted gravel but please move your vehicle to allow the paving to take place.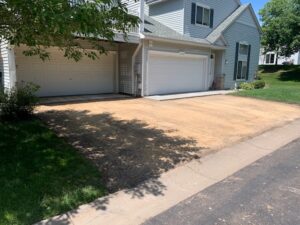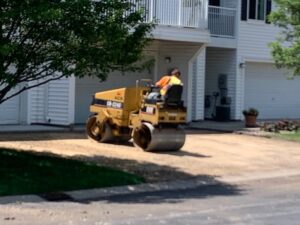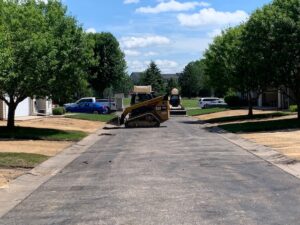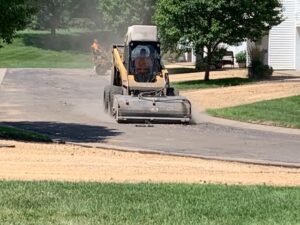 Unfortunately, the weather tomorrow does not look promising and will likely delay the first day of paving. Please still move your cars in the morning on the small chance that the forecast is wrong. I will update everyone with the plan as soon as possible.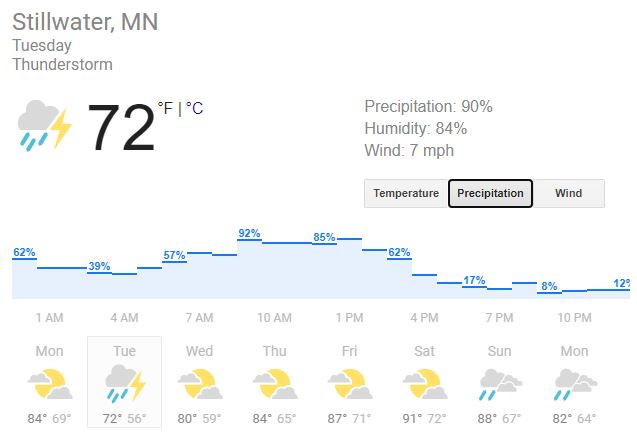 7/8/2020- I hope everyone had a good 4th of July relatively speaking. This week is the calm before storm. The asphalt removal is scheduled to begin on Monday, July 13th. The asphalt crew is very large and consists of very large trucks and equipment. This step will be much more invasive as it will impact all of the community and every resident. The final product will be great but the road to get there will be bumpy. We expect each phase to take 3-5 working days. The removal will take 1-2 days and the paving will take at least 2 days.
Please note that you may park in your driveway after it has been removed overnight but will need to have it moved by 7:00 am the next morning. After the driveway has been paved, please do not drive on it for at least 5 days. You may drive into your garage after that time but please don't park on it for two weeks. Please note that with the high temperatures the asphalt will continue to be soft and surface marks may occur. Please avoid turning your wheels while your vehicle is stopped as this will leave marks.
Please look for paper notices posted on your garage door to confirm when your address will receive the work. Thank you in advance for your cooperation and patience during this very invasive project. 
7/2/2020- The concrete work is complete. Please note the lawn and landscape repairs will need to be completed by others and was not part of our work scope. The HVAC tech is on-site today connecting the last 8 air conditioners, thank you for your patience without AC during this very hot weather. Please note that all of the air conditioners in the community have very dirty condensers and should be cleaned on at least an annual basis.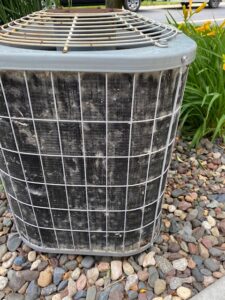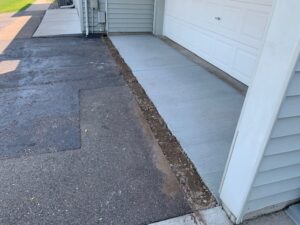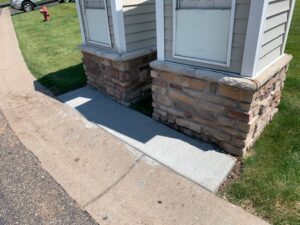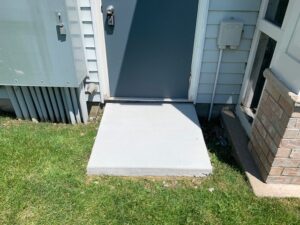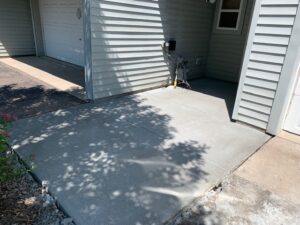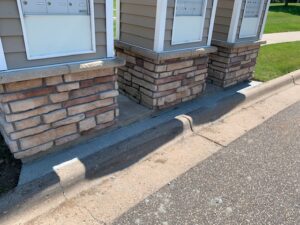 There will be a week off before phase 1 of the asphalt work will start on Monday, July 13th. We will send out additional information as well as post notices on garage doors prior to this step of the project begging. Please have a happy 4th of July!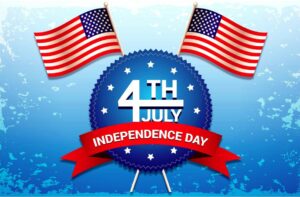 6/29/2020- Today is a rain day. The work will resume tomorrow.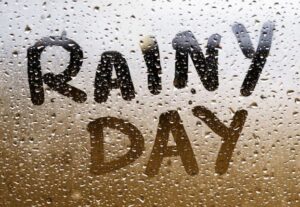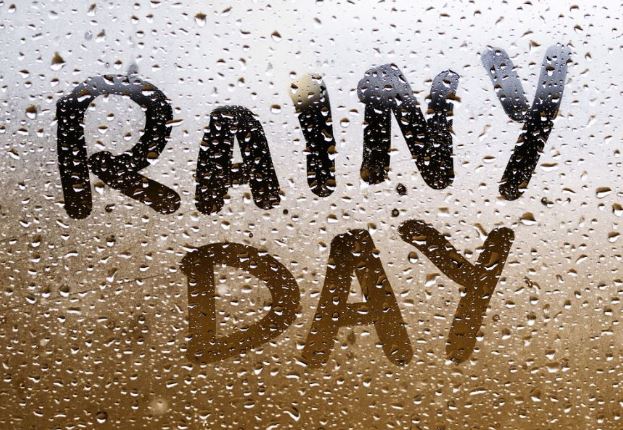 6/26/2020- Due to the rain today, the crew did not complete any work. The HVAC tech will be onsite to disconnect the second and final round of AC's this Sunday. Notices were posted on these homes this Tuesday 6/23. The concrete crew will return Monday morning and are looking to complete the rest of the concrete work by Wednesday, July 1st. The HVAC tech will be back on-site Thursday, July 2nd to reconnect the AC's. The following week, 7/6-7/10 will be the quiet before the storm as phase one of the asphalt work is scheduled to begin on Monday, July 13th. 
6/25/2020- With the concrete moving along well let's discuss the asphalt work. This step will be much more invasive and cause a greater impact on the community. Your patience will be tested as the ability to move in and around your community will be greatly impacted. We have updated the asphalt phasing map to include one side of building 8 in phase one to not disrupted this access lane during two phases. The first phase will be the largest but will allow for the second two-phase to go smoother. Please review the maps above and the phase date
6/24/2020- Unfortunately, the rain last night ruined the slabs that were poured last night. Please be advised that the crew will remove and repour all of the slabs that were impacted.
All but one of the AC's scheduled to be disconnected was completed in the first group. The remaining 8 will take place on Sunday, June 28th with the reconnection scheduled for Thursday, July 2nd. 
The concrete crew is moving along very well and doing a great job. As you can see from the concrete that was removed, there is little to no rebar inside the slabs. As you can clearly see from the photos of our setups, we are installing a complete grid to hold everything together. We are still on schedule to complete all of the concrete work by July, 3rd.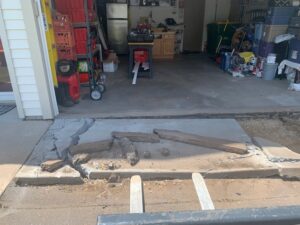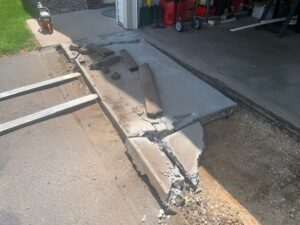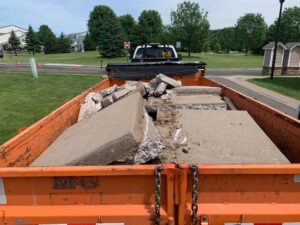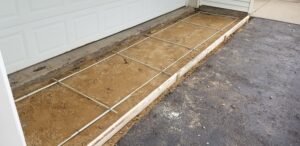 6/18/2020- The crew was forced to call it a very early day today given the expected rain. They are still ahead of schedule and making good progress. The first round of AC disconnections will take place this Sunday morning. We have the reconnection scheduled for Thursday, June 25th. This will give the concrete crew enough time to remove, set up the forms and rebar, pour the new slab, and allow it to cure for 24 hours. We appreciate your patience during this time.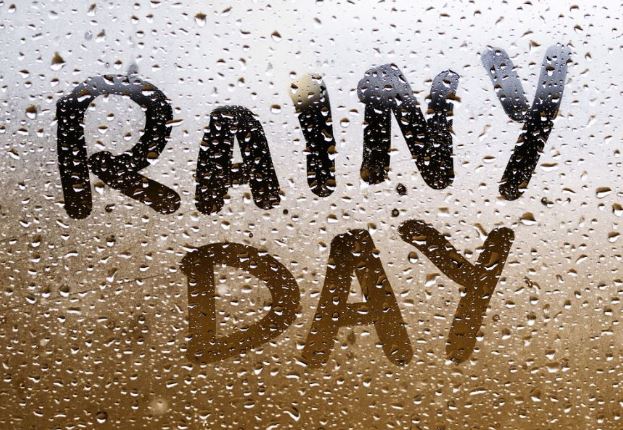 6/17/2020- The crew removed and poured back several areas today. They are working hard in very HOT! conditions. Please be patience with the process and know that we are doing everything we can to make this process as seamless as possible. We appreciate your cooperation and understand the inconvenience that comes with these type of projects. When it's all said and done, everything looks great and a picture with worth a thousand words.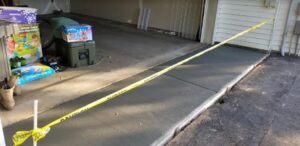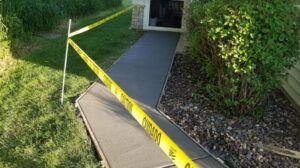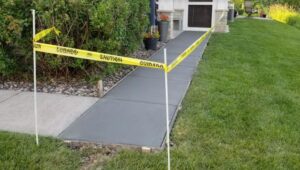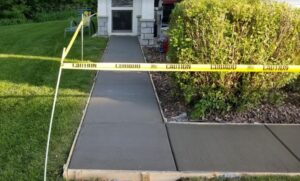 6/15/2020- The first day of the project went very well. The crew was able to remove and setup all of the areas they posted and will pour everything back tomorrow. The concrete that was removed did not have rebar grids within them. As you can see from the photos below, we are making sure everything is installed properly.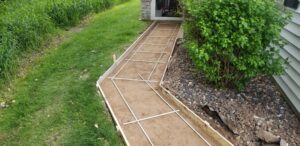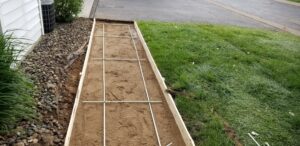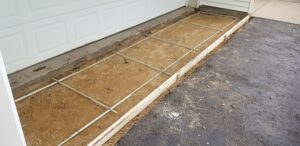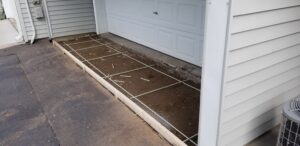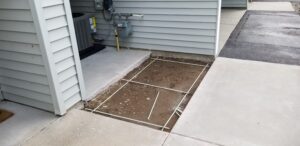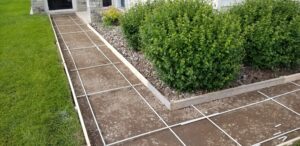 Please contact 612-254-7373 or Email

 

Info@Atlasmn.com

 

With any questions or concerns.