Kingslee Heights Home Association Asphalt Driveway replacement and road mill and overlay project
All work will be completed by:

Thank you for visiting the blog. It is dedicated to the 2019 South Circle asphalt replacement project. Please visit the blog periodically for answers to frequently asked question and project status updates. We appreciate your patience and apologize for any inconvenience during the project. 
Project links
All dates are "Weather permitting" and are subject to change with little notice. 
Friday, 7/26/2019- The milling and removal of the asphalt is scheduled for Wednesday, July 31st with paving to follow Thursday, August 1st.
On these days please
HAVE ALL VEHICLES OUT OF THE COMMUNITY BY 7:00 AM. 
KEEP OFF UNTIL MONDAY, AUGUST 5TH. EMERGENCIES ONLY.
KEEP CHILDREN AND PETS AWAY FROM THE WORK AREA. DANGER KEEP OUT!
Be prepared for the noise. The crews start early in the morning. There will be constant noise during the construction process.

Expect access in and around the community to be heavily impacted. 
Monday, 7/22/2019- All of the driveways were replaced and looking good. You are able to drive over the new asphalt at this time but please DO NOT PARK on it for at least 2 weeks and avoid parking on it on hot days for the rest of the summer. We will let the new asphalt rest for a week before we schedule the road replacement. A separate notice will be sent out at this time. 
Thursday, 7/18/2019- There was quite the crew on-site today. All of the driveways were removed and prepped for the asphalt. The new driveways are scheduled to be paved tomorrow, Weather permitting.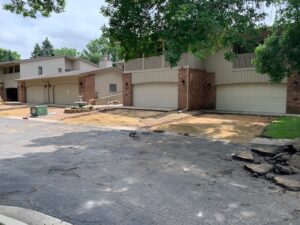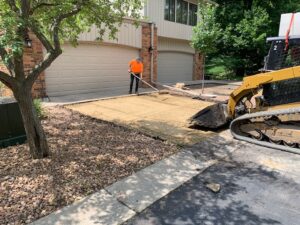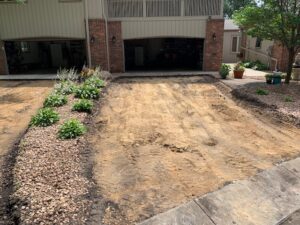 Please be advised that the driveways are scheduled to be replaced July, 18th, and 19th "Weather Permitting". All of the asphalt will be removed and hauled away, the base gravel will be graded and the Asphalt will be paved on Friday. Please have all of your vehicles out of your garage and driveway if you wish to use them by 7:00 Thursday 7/18 morning. You may park on the gravel Thursday night but will need to have them removed again by 7:00 am Friday 7/19. 
All vehicles will need to be kept off of the new asphalt for at least 3 days. At this time you may drive over the asphalt but DO NOT PARK on it for at least 14 days. Please avoid parking on the new asphalt during hot days for the remainder of the summer. The mill and overlay of the road will be completed at another date. 
Please pull your garage door release or leave your garage door open on all working days to help prevent damage to the door. The crew will shut the door after they are done. 
Please contact 612-254-7373 or Email Info@Atlasmn.com With any questions or concerns.