Echo Bay Townhomes Association, Tonka Bay
2018 Roofing and gutter project
Thanks for visiting this blog. It is dedicated to the Echo Bay roofing, chimney siding, and gutter project. Please visit the blog periodically for updates. We appreciate your patience!
Please contact 612-254-7373 or Email 

Info@Atlasmn.com

 With any questions or concerns. 
Job completed!
Thank you for choosing Atlas to complete your exterior renovation. Please contact us for any future exterior restoration projects. Thank you! 
Say hi to Brian Maas, our project manager. He will be on site overseeing the project.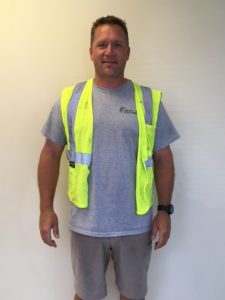 Brians direct dial is 612-990-3087
6/25/2018 The light is at the end of the tunnel! The rest of the gutters will be installed today, the siding will be finished tomorrow and painting of the new siding is scheduled for Wednesday-Friday "weather permitting". The final inspection with the city is scheduled for Thursday 6/28. We are hoping to have the entire project wrapped up by this Friday 6/28 if the weather cooperates. 
Thanks again for your patience during this project and feel free to contact us with any questions or concerns. We would be happy to assist your community with any future exterior renovations. 
6/18/2018 All homes have had the roofs replaced. The chimney siding is scheduled to begin tomorrow and will likely take a week, weather permitting. There are several homes that have had their gutters installed and the remaining will be scheduled for next week.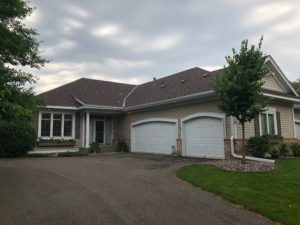 6/5/2018 Buildings 3 and 4 are expected to be completed tomorrow 6/6. Buildings 5 and 6 will begin tearing off Thursday morning and expected to be completed on Saturday 6/9. Buildings 7 and 8 are scheduled for Monday, June 11th and is expected to be completed by Wednesday 6/13. The chimney siding is scheduled to begin the week of June 18th. 
Work is expected to begin on buildings 3 and 4 this coming Monday 6/4. Dumpsters will be delivered in the morning. 
6/1/2018 Work is moving fast! The first two buildings will have the dumpsters removed by 3 pm this afternoon.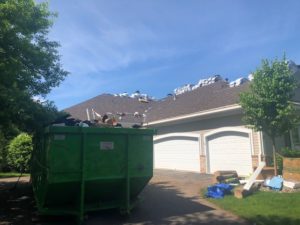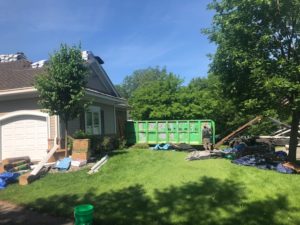 5/31/2018 Work has begun on the first two buildings.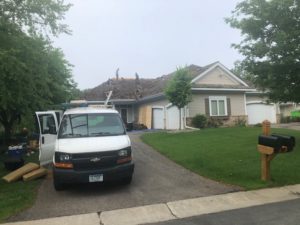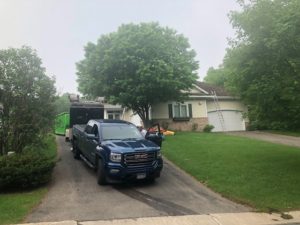 Tearoff is going well.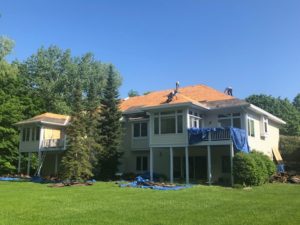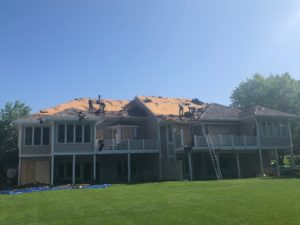 5/30/2018 because of the rain last night and the threat of more today, the roofs will be too slippery to begin working on them. The dumpsters will still be delivered today and work will begin tomorrow, weather permitting. 

We are expecting to start the shingle and chimney siding tear off on the first two buildings on

Wednesday, 5/30/2018. We will be starting on the buildings labeled 1 & 2 and will work in numerical order, two buildings at a time moving forward. The dumpsters will be stored in the driveway of the home the work is being completed. Every two buildings will take 2-3 working days. All dates are weather dependent. 
Community-wide dryer vent cleaning is scheduled for Friday 5/25/2018 "Weather permitting". Work will be completed on Saturday if the weather doesn't allow for the work to be completed on Friday.
KMS Air Duct Cleaning will be completing the work from the exterior of the home using 200 lbs of high-pressure air that is applied using a viper air snake, an agitator, and backward roller ball. The lint will be loosened and forced back out the roof vent. 
Please contact 612-254-7373 or Email 

Info@Atlasmn.com

 With any questions or concerns.